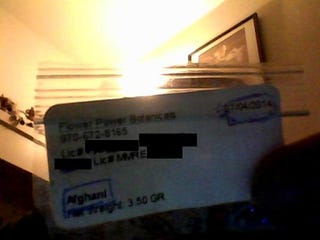 Let me tell you the straight dope. We. Have. Lost. The. War. On. Drugs. The Presidoesn't has a drone joy stick in one hand and a 'dro joint stuck in the other. Our previous leader —from a good family— was not willing to discuss to which side he would or would not pass the dutchie. The one before that —between bouts of extramarital porking and dress smearing— admits to having at least tried and failed to use the very drug that our Bravest American Political Party's leading candidate sold. Morbidy Jolly has found and transcribed his hash menu as copied and notated from his smokin' buddy! He offered ten strains of hash —concentrated devil' weed. Sure, everybody has the news, but we have the dank shitty details ($5/g -his scale):
Bush Banner (H)- People loved this strain that would claim to hulk out your creativity, but it left everybody broke, overextended and unexpectedly wearing terrible pants.
White Widow (I)- Jebby's fave —as if it was the only strain that mattered, deserved respect and protection, but its high was hard to grasp, and often made you feel really weird about your dead relatives. He called this his most important constituency, and would stroke the jar.
Skunk #1 (S)- This is the only kind of (expired) beer you can afford after living under Jebonomics, brought to you by Dick Cheney's America:
Blueberry (I)- Put a wet towel under the door, the Bush boys be back for more. Don't trust, they cut taxes through tha floor. Food stamps, damn we need some more. Always be bitchin' 'bout tax tax tax tax. This hash make you feel like a heart attack.
Romneyulan (Genetics Absent)- Made me light headed and briefly weak in the knees until Jeb's friends told women to close their's. This strain has the opposite effect of its looks, and it left a bland, stale coffee aftertaste that is now always linked with the guy who sold it to me.
Skunk #2 (H)- This hash is so powerful it lets you realize that the type-two-sugars you got from livin' food stamp fabulous mean you're functionally a still, so you can drink your own pee and get drunk! Beat the system —just like that hilarious monkey .gif your dad sends you! Imagine either the racist one or the peeing one or the one that's the mix of those —-go nuts, it's your own internal horror cavalcade of laughs with this strain!
Sour Diesel (S)- To question that this strong, gaseous strain of hash is the backbone of concentrate culture is to question why Jesus died when so many are forced to live fates worse than death. You know, your mom knows. She saw you and said nothing, so you'll both burn with this hot strain!
Trickledown Wreck (Unsure, didn't smoke)- Paid my fiver. He smoked it, and then blew it all on me. He said "All stones roll down, sinking into the harbor, lifting all boats!" I can't believe I paid him five dollars a second time and had the same shit happen again.
Girl Scout Cookies (H)- Super strong, communal feelin' and I know it didn't let me down. It did make all women lesbians —at least that what Jeb called them when they'd leave suddenly. We'd then get all paranoid and want control.
If you've tried any of these strains, MJ would love to hear about it: