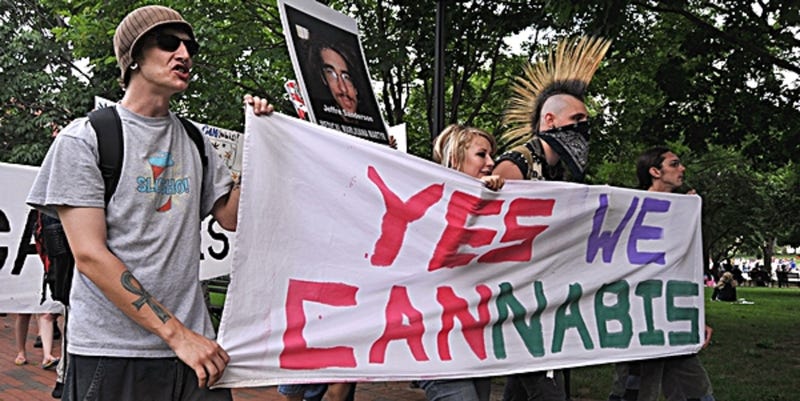 Well, it's been a little over an hour after DC's first legal 4:20. Morbidly Jolly gathered twenty of the first cloudy thoughts from politicians, dealers, stoners, and pundits who may or may not be in DC possibly high as shit or not:
Politicians:
Lindsey Graham & Jon McCain: "We've come to so many terms, man."
John Boehner: "I finally get that my name sounds like an erect penis, that trickle down economics are a lie, and irony."
Nancy Pelosi: "Not as good as our shit back home."
David Vitter: "I have come to so few terms, man."
Barack Obama: "Not as good as the shit Nancy brings from back home."
Dealers:
Your Old Roommate: "Can I pay off that back rent with this dankQ"
Sketchiest Dealer You Know: "This legal shit's so good, even all those stems are great!"
Friend of a Friend's Guy: "All this demand means it's gonna be $65" [Has No Extra Demand]
Your Best Guy: "I call it Barack OG, cause it starts out slow, hit hard, gets mellow, then refuses to give a fuck any more."
Street Dealer: "Twice as good as that shit talker Nancy Pelosi's brick-ass-shit."
Stoners:
Lazy Larry: "This is just the man trying to co-opt the movement. I'm out, but you wanna smoke another blunt?"
Old Stoner GF: "Sorry I was such a flake, but maybe we should hooka up after my set at Open Mic Night."
Doug Benson: "I'm running for Congress."
Old Stoner BF: "Lets get double blunted." [Sends gross dick pic with unflattering blunt to cock ratio.]
Sarah Silverman: "I just want to remind you, I can now get high and fuck Matt Damon."
Pundits
Brian Williams: "Well, this was sorta what I had planned any way for the day..." [Uncomfortably watches Girls]
Gawker Media: "No, Alex, we're not sending you to D.C. for this _and_ buying the weed."
Andrea Mitchell: "Maybe now I can sleep, knowing what my husband has done."
Bill O'Reilly: "My lies about weed are totally different than Williams'"
Chris Matthews: "I still prefer cocaine." [Uncomfortably watches Girls]
[Image from Shelby Sebens at Shelby@NorthwestWatchdog.org]